I watched loads of films in April! Many of which I hadn't seen before, which is good.
1) The Matrix - I have of course seen this before, when I was a teenager I really liked it but we hadn't watched it in ages so decided to watch it again - I think it does stand the test of time
2) Lord of the Rings - I've never seen this so thought I would, but god it goes on al ong time. I had to watch it in chunks.
3) Star Wars: The Force Awakens - I loved this when we saw it at Christmas so we watched it again, it's still fantastic
4) Pleasantville - I love this film and have for years. It's so delicately done.
5) God Help the Girl - I'd been meaning to watch this for ages and I'm so glad I did. It's really lovely, the girls are both excellent (I loved Hannah Murray in Skins) and so is Olly Alexander
6) Josie and the Pussycats - Netflix recommended this to me and I liked it, it's so kitsch and fun. Alan Cumming is excellent in it!
7) Chocolat - I love this book and first read it years ago when I was in college, but I'd never seen the film. I liked it even though it was different to the book.
8) Obvious Child - I saw this in a list of feminist films on Netflix or something, and I loved it. It's about a woman who has a one night stand after breaking up with her boyfriend and becomes pregnant, and decides to have an abortion. It's really good, go and watch it now
9) Fast Times at Ridgemont High - I've never seen this and I enjoyed it, it's so 80s!
10) Miss Potter - this was on iPlayer so I put it on, not really knowing much about Beatrix Potter's life even though I love her stories. I liked it, Renee Zellweger was great and so was Ewan McGregor. Worth a watch
11) Wallace & Gromit and the Wrong Trousers - this was also on iPlayer and I hadn't seen it in years so I watched it, it's cute!
12) A is for Acid - this was on ITV.com and I never saw it when it was first made. It's pretty gruesome but Martin Clunes was excellent, I enjoyed it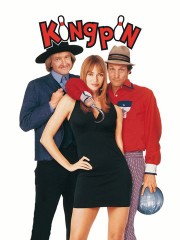 13) The Wedding Planner - this was on TV so I idly watched it. It was pretty terrible!
14) Bill & Ted's Bogus Journey - this is my favourite of the Bill & Ted films because I love Death so much. "They Melvined me!"
15) Kingpin - we watched this after Sheffield Zine Fest, it's ridiculous! I liked Woody Harrelson though.
And that was April!