This Saturday saw the 5th fat clothes swap in Leeds. I've been to all of them, but this time me and
Lolly
organised it! Kirsty and Emily weren't available to, so we took it on, but it was due to their hard work that it even exists in the first place!
We used the same venue as previously, Wharf Chambers in Leeds. It's a workers co-operative so renting their space really helps them, which feels good, and it's a nice amount of space with two rooms and lots of tables. We set up with the help of a few people - thank you, seriously.
Bettie
brought her zine distro, Lolly made yummy cupcakes, and
Chloe at Life's Big Canvas
gave us an amazing discount in her shop, which is just around the corner!
We had approximately 40 people come through the doors, all 24 cupcakes went, many many clothes were swapped and snaffled, Bettie sold quite a few zines, and afterwards 17 of us went to Zizzi's which was really lovely.
I picked up some really amazing stuff - dresses and tops and teal shoes. I will show those in different posts though, as they're being washed currently - I'm really allergic to a lot of washing powders so have to wash things that I get secondhand.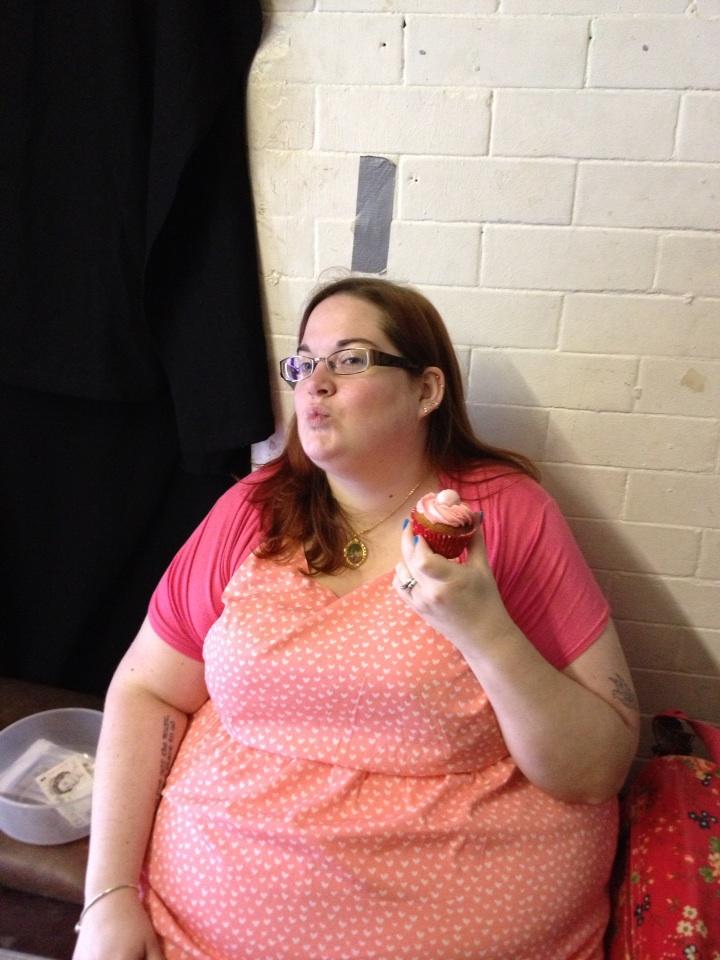 Here I am with one of the yummy cupcakes. I'm wearing a peach dress with heart print from New Look Inspire last year, and a coral coloured shrug. I'm also wearing make up, although you probably can't see that. It's a rarity, though.
Steph has written about the swap
here
, Rebecca's post (with gorgeous photos) is
here
, Lolly and Bettie have also written posts so do check them out :)
My mum and her friend came too, and they had a great day. Meg was thrilled to find 2 pairs of trousers and a gorgeous linen jacket that would be perfect for a wedding. My mum picked up a dress that I actually thought she brought it was so much her style. Plus she was absolutely made up that people snapped up her homemade 80s dresses straight away! Hehe, retro style.
There will be another swap probably in late April or early May. Keep a look out!